Printed stickers – labels
CUSTOM PRINTED VINYL STICKERS IN AUGUSTA GA
Die cut Custom stickers printed
Looking to make a statement with your branding? Want to add some personality to your products? Check out our custom stickers! Made right here in Augusta Georgia at 411 Graphics.
We print them on eco solvent, outdoor vinyl using UV laminate for protection against the elements. They're perfect for everything from business advertising to personal use, and they can be die cut to size in a wide variety of shapes and sizes to fit just about any need.
Plus, they're totally waterproof and durable enough to last up to five years! Great for outdoor use, indoor use and handle a wide temperature range.
Eco-solvent vinyl with UV laminate, outdoor rated
Ideal for business advertising or personal use
Shape and size may be customized to fit just about any need
Outdoor Waterproof, durable enough to last up to five years!
low-cost and quick turnaround
Customizable and easy to place on any surface
Personalized for any occasion
Economical
With custom sticker printing,
you can take your message to new heights. Vinyl stickers are the easiest and most effective method for a business to connect with its consumers. Our Augusta made, logo stickers may help your brand get recognized by the target audience, whether it's a large corporation or a small family business. In contrast to conventional digital adornment, stickers are generally kept on display longer than others.
Custom printed die cut stickers
Showcase artwork, Company logo or sign advertising
Cost effective promote or marketing accessories
Versatile for permanent label product packaging
Low quantity, Fast turnaround time, Durable quality
Waterproof, Outdoor use, UV protected laminate
Customize background, text and size
What are vinyl stickers good for?
Vinyl stickers can be used for a variety of reasons. Bumper stickers are the most popular form of sticker, but they actually have more uses than that. You can put them on your laptop or cell phone to show off your favorite brand logo or cause, you can use them as an easy way of labelling things around the house, and you can use them as decorations. Vinyl stickers can be stuck to any flat smooth surface.
Stickers are good for decorating your car, especially if you have a special occasion coming up and want to show your support or appreciation. If you have a company car in augusta georgia that you run, then custom vinyl stickers can be a great way of advertising the name of the client and their business.
Product labels and custom vinyl stickers are a great way for business to brand their packaging. They can be used for promotional purposes. Vinyl stickers add value to anything they're applied to simply because they're a low cost and effective way of advertising.
How much does sticker vinyl cost in Augusta?
This is a question I hear all the time at 411 Graphics sign shop here in Augusta Ga. .
When I tell people how little sticker vinyl actually costs, they are often surprised. The cost of printing stickers can vary depending on what type of material you use.
Where can I buy good quality stickers around Augusta?
You can buy custom stickers from a number of different manufacturers, but one of the best and easiest ways to get them is through our vinyl sticker printing services here in Augusta GA. This allows you to put any design on your stickers that you want, at a price that's cost effective on the pocketbook.
How long do vinyl stickers last in AUgusta GA?
The durability of vinyl stickers depends on the type of application they are subject to. For most applications (businesses, cars), vinyl can last up to 5 years when properly maintained. Especially here in Augusta and thought the USA.
Do vinyl stickers wash off?
custom vinyl stickers are designed to stick to a variety of surfaces, so they will stay in place even through washing. However, as with any sticker, excessive rubbing or contact with rough surfaces may cause it to peel or come off.
What are high quality Augusta Printed Custom stickers made of?
High quality stickers are produced with the use of Polyethylene white vinyl material. Onto which eco solvent ink is used, printed vibrant colors.
To create a waterproof, scratch proof, fade proof and tear proof sticker. We apply a UV gloss finish laminate to protect it outdoors from fading.
Cutting machines, cut to size stickers with either custom shapes, rounded corners, upload artwork with a cut line and them they can be cut to shape. All done here in house at 411 Graphics in Augusta GA
What's the difference between printable vinyl and sticker paper?
Printable vinyl is an adhesive surface with a printable film laminated to its face. The whole product goes through very high temperature rollers at the factory, which melts the lamination down into the glue side of the vinyl. This means that you cannot pick or peel the sticker off without damaging it! However, this does mean your stickers are water, scratch and tear resistant.
Printable vinyl is very flexible, so it can be applied to curved surfaces, such as car bumpers. Because of this flexibility it cannot be applied onto paper or card stock.
Sticker paper is a self-adhesive, semi-permeable product with no adhesive on the face of the product. It's literally paper with a removable adhesive applied to one side.
However, because there is no adhesive on the face of sticker paper these can not be applied outdoors or get wet.
If you are here in Augusta, stop on by and see us at 411 graphics to see and feel the difference.
Stickers Printed Here In Augusta GA
Stickers can be used for many different purposes and are available in a variety of materials. Depending on your needs, you may want to consider the durability, cost or performance that vinyl stickers provide.
To learn more about how you can customize our products just let us know! Our team of experts are ready and waiting to partner with you create your perfect sticker.
Works on any surface
Durable vinyl for indoor and outdoor use
Waterproof coating to protect against moisture, UV rays etc.
Low cost point pricing starting at $1
Small, durable stickers that are easy to apply
Used by many popular brands
Attract customer's attention and increase sales
Decorate your home or office with them for decoration purposes
How do I make my own custom vinyl stickers in Augusta GA?
You can make your own custom vinyl stickers by ordering them from us at 411 Graphics, located in Augusta Georgia. We offer high-quality, custom stickers that are perfect for any occasion.
We have a wide range of sticker designs available, so you can find the perfect one to match your needs and interests. Our stickers are made with premium quality vinyl, so they will last long and look great every time.
Do custom vinyl stickers stick to anything?
Yes. Vinyl stickers stick to most clean, dry surfaces including car bumpers, windows, laptops & notebooks, equipment cases and walls among others. The trick is that the surface needs to be smooth and free from dirt or grease as this will stop the sticker from sticking properly.
Come on by 411 Graphics, a local sign shop here in Augusta Ga. We can show you in person the best techniques to get the best results.
What printers print vinyl stickers?
Vinyl sticker printers that use eco solvent as a medium to print with will work best.
Eco Solvent is an environmentally friendly way of producing prints on vinyl, which doesn't release any harmful fumes during the printing process. These machines are specifically designed to handle the vinyl sticker material without damaging either its longevity or quality.
Are vinyl stickers better?
Of course it's all down to personal preference, but vinyl stickers are arguably the superior option. Every time you buy a sticker made from 411 Graphics in Augusta Ga,  you know that your design is going to be printed nicely onto a high quality material. We apply a scratch resilient. UV protective laminate, which isn't going to fade in the sun.
This means your custom stickers will look great for years without fading! Vinyl also adds durability to your stickers, which means that tearing or creasing won't be an issue for your sticker.
Can you print vinyl stickers on a regular printer?
Short answer, no. Why? Because inkjet printers use liquid based or dye inks that are not formulated for the application of vinyl stickers. This will cause problems with curing, lifting, cracking and peeling. They will not be waterproof, outdoor durable, protected from the harsh outdoor Sun fading light.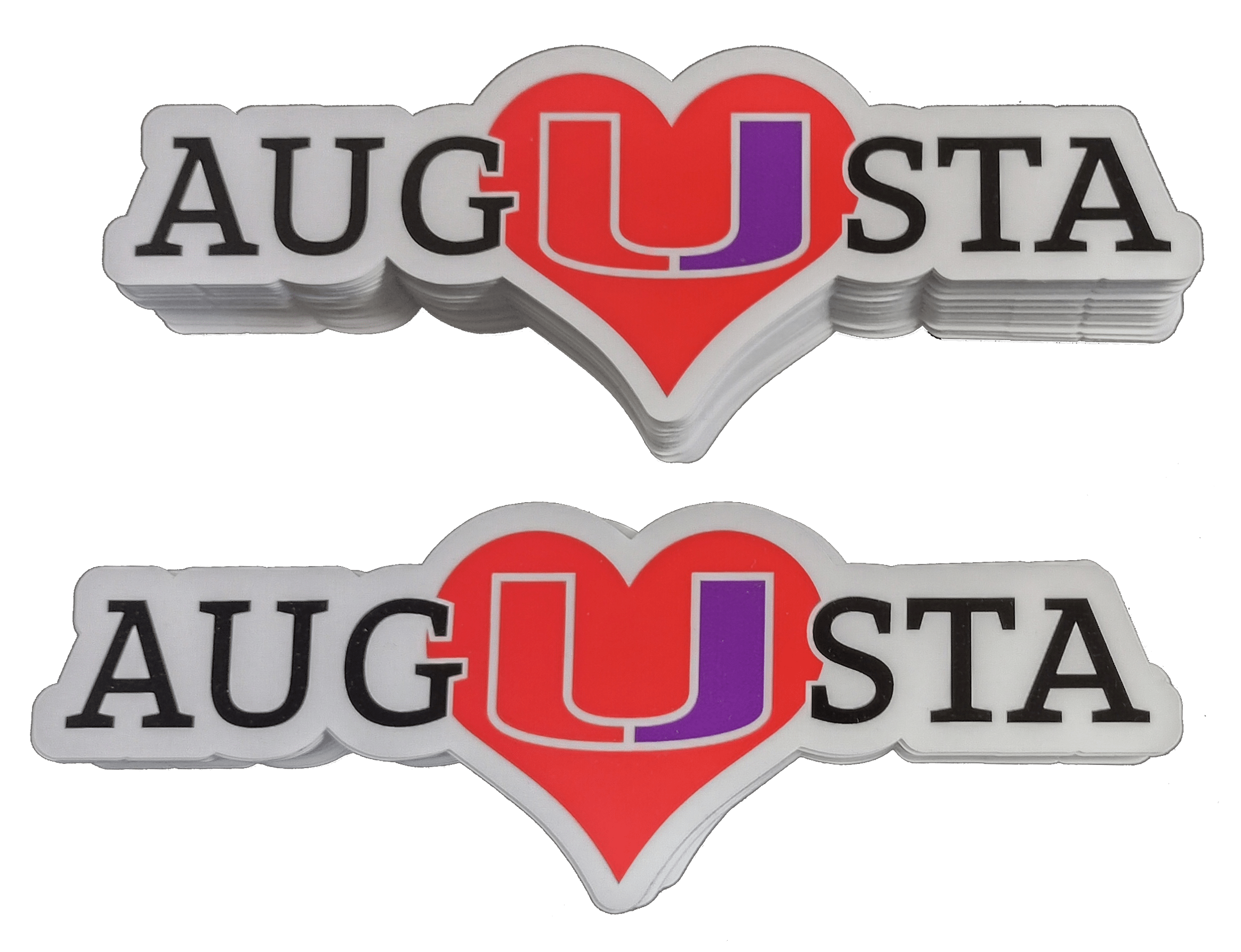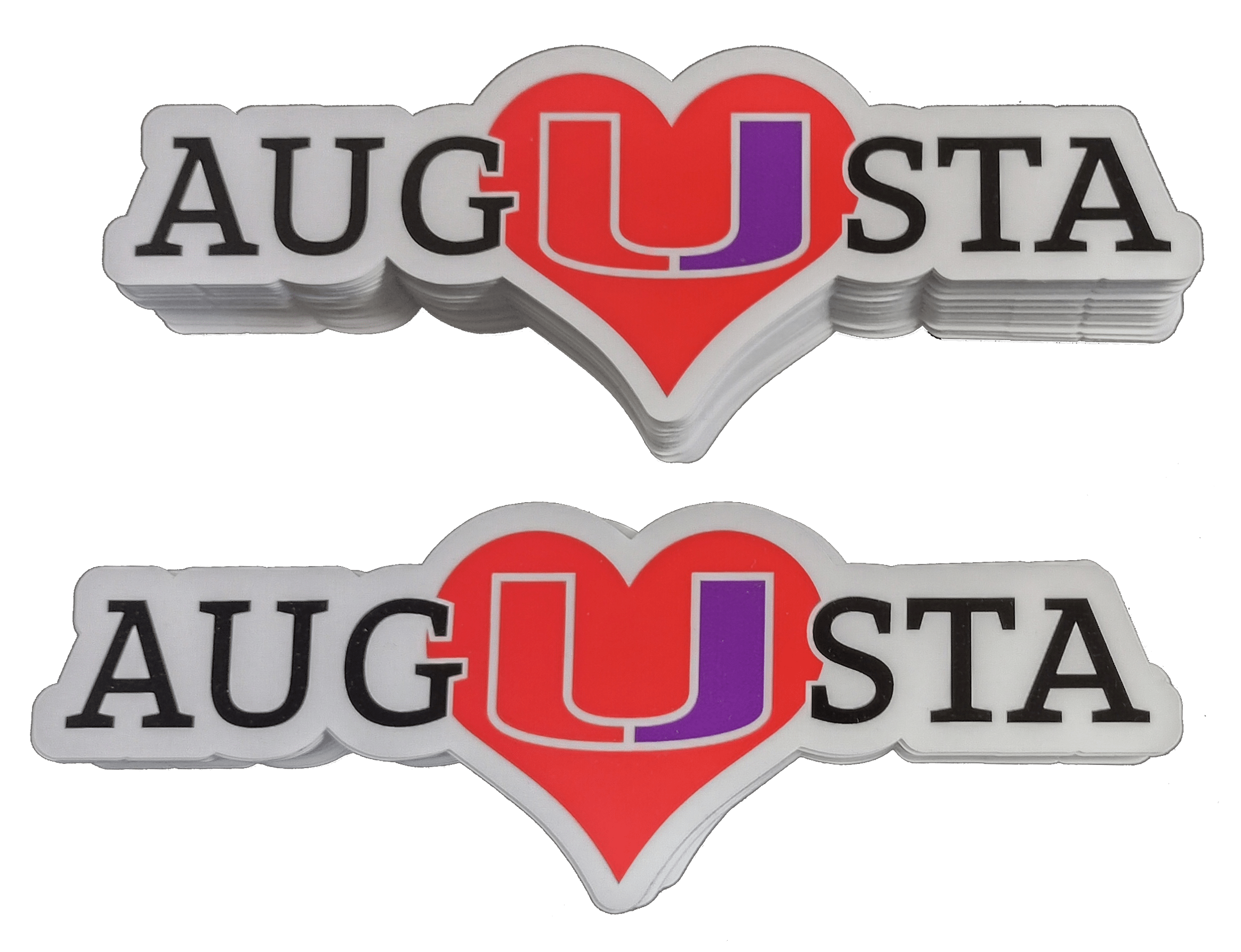 Stickers are a great way to get your company name out there! They can be printed in full color. Once customized with your brand logo, you're putting your company into the public eye, increasing visibility and it's just another great marketing tool.
Stickers can be used for many different purposes and are available in a variety of materials. Depending on your needs, you may want to consider the durability, cost or performance that vinyl stickers provide.
To learn more about how you can customize our products just let us know! Our team of experts are ready and waiting to partner with you create your perfect sticker.
Contact 411 Graphics today if you're interested in learning more about how we can help improve your marketing efforts by providing stunning, high-quality printed outdoor durable stickers made here in the CSRA with options at competitive price.
So what are you waiting for if you are looking for business custom stickers near me or print stickers near me in Augusta GA, the CSRA?
Give us a call today! (706) 496-3068
Drop us a line and lets get your next project started.
Graphic Design, Signs and Printing consultations are always free!
What kind of sticker is best in Augusta?
Vinyl stickers are great for short term promotional items while reflective stickers are good for long term applications outdoors at night or in wet environments.
Decals would be a good choice if you want to cover an entire surface indoors or outdoors with a single design. Or perhaps you need it to have some kind of impact resistance, then use clear cast vinyl decals.
All these different materials will provide different levels of durability, performance and affordability so it's important that you think about what your needs are when choosing the right material for your project in Augusta.
Is vinyl and sticker the same?
No. Vinyl is a type of material which is used for making stickers. Both have different properties and uses.
Stickers are specially designed paper, cloth, plastic, metal or vinyl pieces with adhesive on one side. They are used to stick on surfaces like walls, helmets, bumpers etc.
Which vinyl is best for stickers?
As with most vinyl decals, there is no one best choice. It all depends on what you are trying to accomplish. Some vinyl's are more durable than others, some have better removability characteristics, etc.
There are many options for us to consider before choosing the right material for your project. Stop on in here at 411 Graphics in Augusta GA. We will lead you in the proper direction.
What is the difference between stickers and vinyl?
Stickers and vinyl stickers are both pressure-sensitive adhesive products that can be used in a variety of different ways.
Vinyl sticker printing uses pressure-sensitive adhesive (PSA) is a common term for adhesives that bond to surfaces when light pressure is applied to one side of the adhesive. Typical applications include decals, labels, price tags.
What is the best surface for custom stickers in Augusta?
Custom stickers made of vinyl works well on just about any smooth surfaces. This includes metal, glass, plastic or paper materials.
Vinyl will not work well with porous or textured surfaces such as brick, stucco or concrete. It also should not be used on fabrics since it will damage them upon removal. Vinyl may also have difficulty sticking to soft rubberized surfaces since it tends to stretch when applied over these materials. The exception being some types of low-tack tape products.